Wedding DJ at The Castel Hotel, Taunton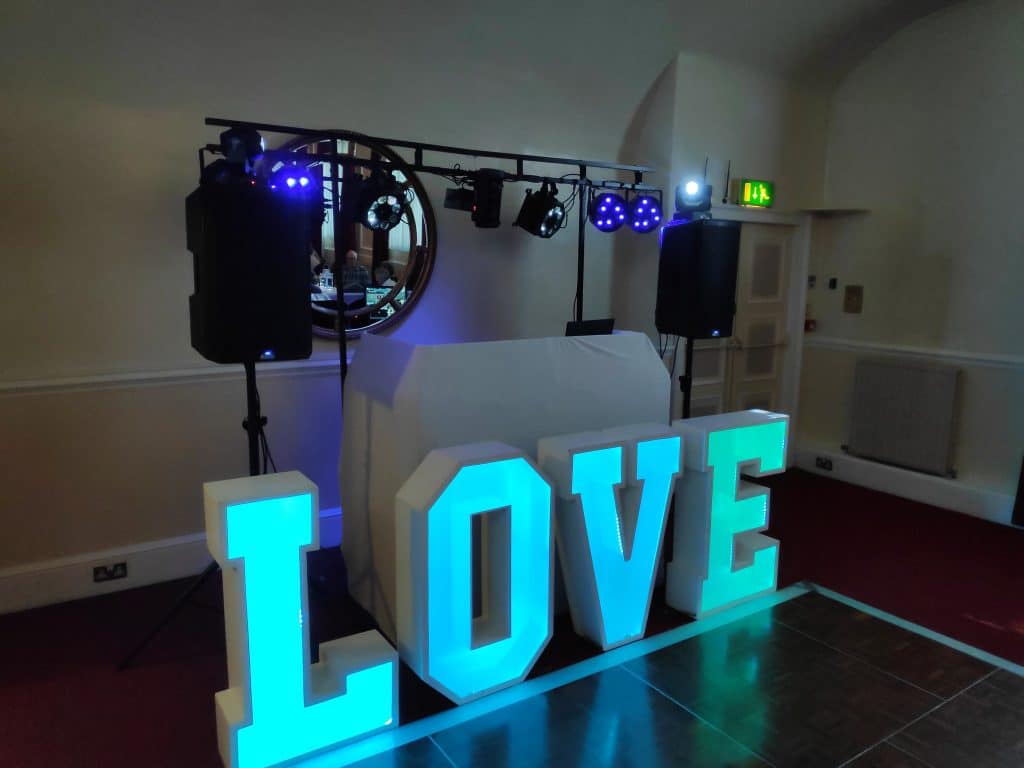 Here are some photos I have taken from weddings I have provided the DJ service for at the Castle Hotel in Taunton.
These were taken when I was back at The Castle at Taunton for Pete and Dawn's wedding. Congratulations!
We had a fantastic evening with lots of dancing and great tunes.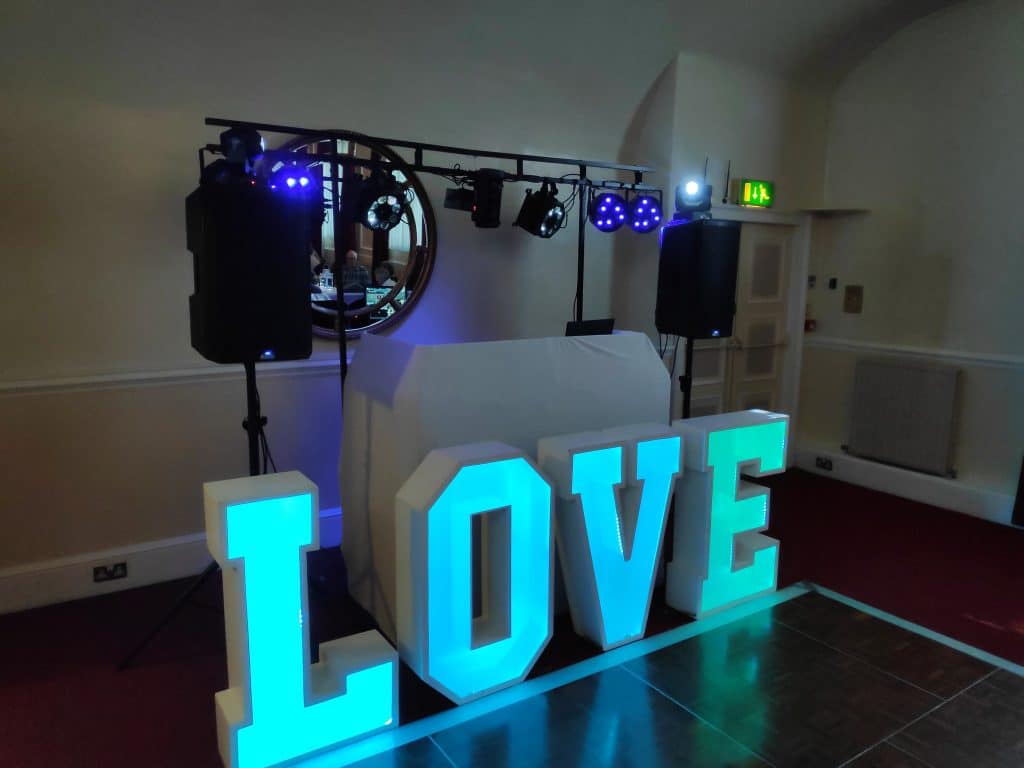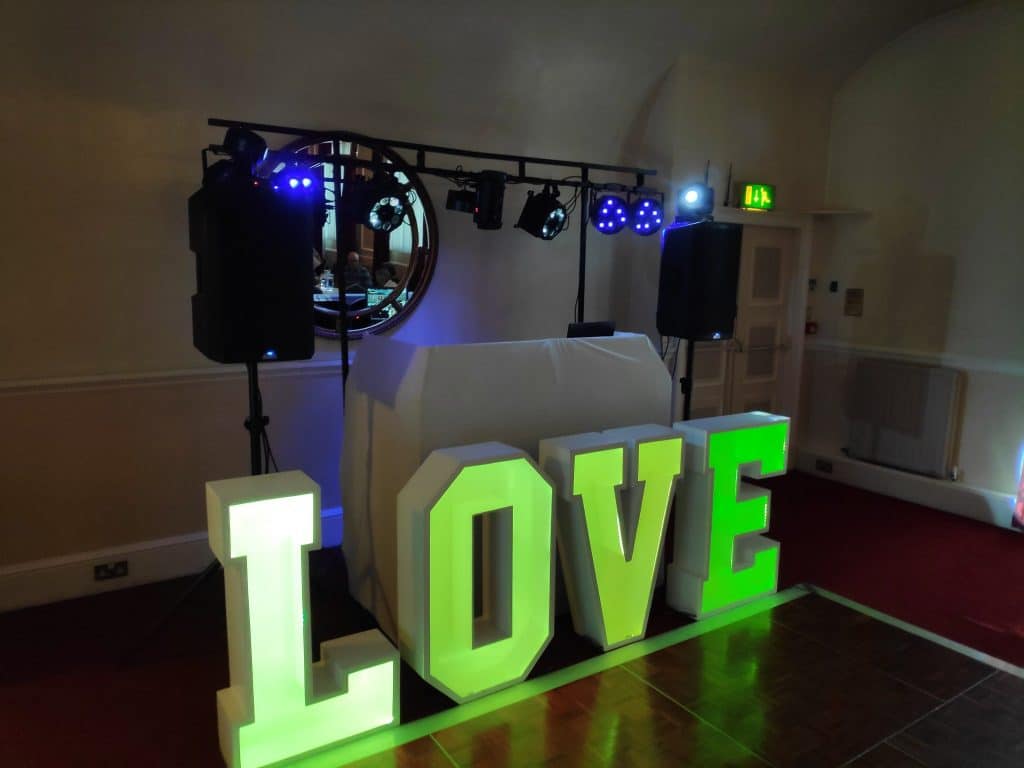 Playlist for Pete and Dawn wedding 6th September 2019
Track History 2019/09/06
——————————
19:03 : George Benson – Give Me The Night
19:06 : Shalamar – A Night To Remember
19:10 : Tavares – Heaven Must Be Missing An Angel
19:14 : Bucks Fizz – Making Your Mind Up
19:16 : Ricky Martin – She Bangs
19:20 : Inner Circle – Sweat (A La La La La Long)
19:23 : Lou Bega – Mambo No. 5 (A Little Bit Of…)
19:27 : Peter Andre – Mysterious Girl
19:31 : Christina Aguilera – Candyman
19:34 : Whitney Houston – Million Dollar Bill (Frankie Knuckles Radio Mix)
19:37 : Jess Glynne – Hold My Hand
19:40 : Ed Sheeran – Shape of You
19:44 : Hot Chocolate – You Sexy Thing
19:48 : Hanson – Mmmbop
19:52 : Madness – House Of Fun
19:54 : Chuck Berry – You Never Can Tell
19:57 : The Four Tops – I Can´t Help Myself (Sugar Pie, Honey Bunch)
19:59 : Robbie Williams – Let Me Entertain You
20:03 : Bruno Mars – Marry You
20:07 : Michael Jackson – Love Never Felt So Good
20:10 : Young MC – Know How (Baby Driver Soundtrack)
20:14 : George Ezra – Shotgun
20:17 : Alexander O' Neal – Criticize
20:20 : Cameo – Word Up
20:24 : Wheatus – A Little Respect
+Cake cutting
20:28 : East 17 – House Of Love
+ First dance
20:32 : Tom Walker – Just You and I
+ Begining of evening disco
20:39 : Stevie Wonder – Superstition
20:43 : The Supremes – You Can´t Hurry Love
20:45 : Whitney Houston – I Wanna Dance With Somebody
20:50 : Bill Medley & Jennifer Warnes – (I've Had) The Time Of My Life
20:55 : Sister Sledge – We Are Family
20:58 : Mark Ronson feat. Bruno Mars – Uptown Funk
21:02 : Erasure – Take A Chance On Me
21:05 : Beyoncé – Single Ladies (Put A Ring On It)
21:08 : Mark Ronson – Valerie (Feat. Amy Winehouse)
21:12 : Chubby Checker – Let's Twist Again
+Buffet
21:14 : Simply Red – Something Got Me Started
21:18 : "Joliet" Jake Blues – Everybody Needs Somebody to Love
21:21 : James Brown – I Got You, I Feel Good
21:24 : James Taylor – Brown Eyed Girl
21:27 : Foundations – Build Me Up Buttercup
21:30 : James – Sit Down
21:34 : Oasis – Dont Look Back in Anger
+Evening disco continued
21:38 : Spice Girls – Wannabe
21:41 : Britney Spears – ….Baby One More Time
21:44 : Five – Everybody Get Up (Radio Edit)
21:47 : Backstreet Boys – Everybody (Backstreet's Back)
21:51 : C'est La Vie – B*Witched.
21:54 : S Club 7 – Reach
21:57 : Bee Gees – You Should Be Dancing [Long Version]
22:02 : The Jacksons – Blame It on The Boogie
22:05 : Village People – YMCA
22:10 : Lil Nas X Ft, Billy Ray Cyrus – Old Town Road (Remix)
22:12 : Bryan Adams – Summer Of '69
22:15 : RUN-DMC – Walk This Way (feat. Aerosmith)
22:18 : Bon Jovi – Livin' On A Prayer
22:22 : Robin S – Show Me Love
22:25 : Livin Joy – Dreamer
22:28 : Ultra Nate – Free
22:32 : Mousse T – Horny
22:35 : Wamdue Project – King of My Castle
22:37 : Armand Van Helden featuring Duane Harden – You Don't Know Me
22:41 : Faithless – Insomnia
22:43 : Prodigy – Breathe
22:47 : ATB – 9pm Till I Come
22:50 : Underworld – Born Slippy
22:51 : SL2 – On A Ragga Tip
22:55 : Dexy's Midnight Runners – Come On Eileen
22:59 : Wham – Wake Me Up Before You Go Go
23:02 : Tiffany – I Think We're Alone Now
23:06 : Rick Astley – Never Gonna Give You Up
23:09 : Wham – The Edge Of Heaven
23:14 : Journey – Don't Stop Believin'
23:18 : Andy Williams – Can't Take My Eyes Off You
23:21 : Queen – You're My Best Friend (1993 Digital Remaster)
23:23 : Kings Of Leon – Sex On Fire
23:27 : The Killers – Mr. Brightside
23:30 : Reef – Place Your Hands
23:34 : Green Day – Basket Case
23:36 : blink-182 – All the Small Things
23:39 : Alien Ant Farm – Smooth Criminal
23:42 : John Travolta & Olivia Newton-John – The Grease Megamix
23:47 : Dolly Parton – 9 To 5
23:50 : The Proclaimers – I'm Gonna Be (500 Miles)
23:53 : Queen – Don't Stop Me Now (2008 Digital Remaster)
23:56 : Oasis – Wonderwall
00:00 : Gerry & The Pacemakers – You'll Never Walk Alone